Application Overview
We provide a variety of USB to UART controller and application solutions, support USB to 1, 2, 4, 8, 16 UART and so on. The UART provided by the WCH controller defaults to the TTL level. Through level converter chip can be flexibly converted to various levels such as RS-232, RS-422, and RS-485, which fully meets your multiple solutions, various devices, and various requirements.
The USB to UART solutions support Windows/Android/Linux/MacOS and other operating systems. Among them, CH9326, CH9343 and CH9342 are not required to install drivers, and CH340/CH341, CH9344 and CH943X need to install the VCP (virtual serial port) driver.
Application Features
Supports 5V and 3.3V power supply for UART.
Supports 5, 6, 7 or 8 data bits and 1 or 2 stop bits.
Supports odd, even, none, mark, space parity.
Supports various common baudrates, up to 6Mbps.
Integrated transmit-receive buffer for each UART, independent of each other.
Application Details

Application Details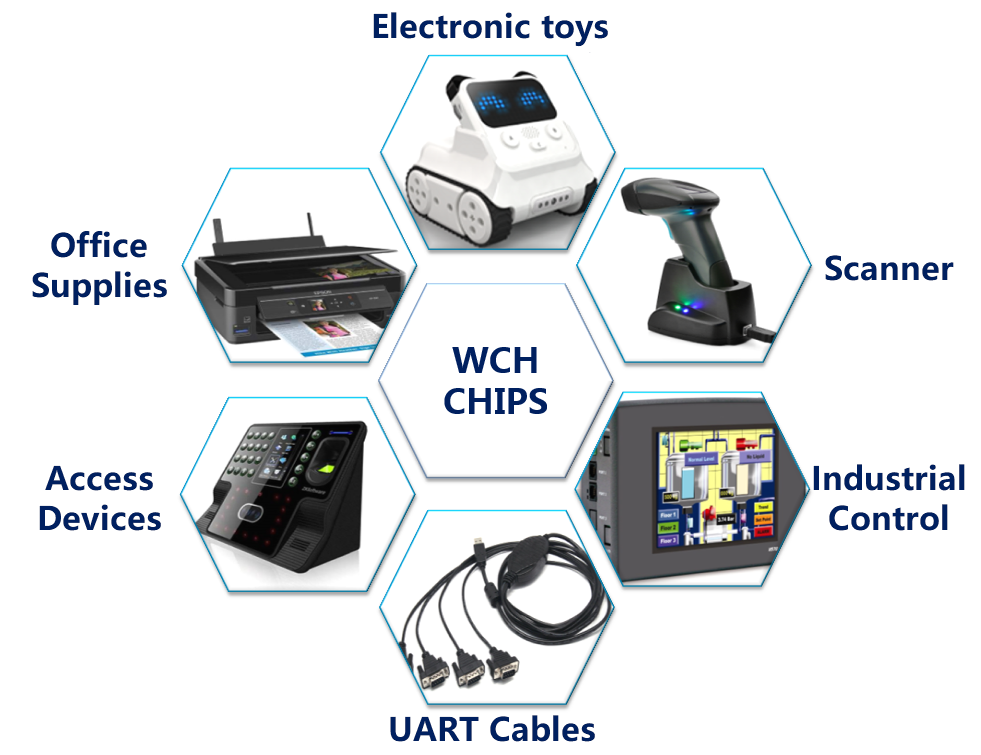 Development Information
Design reference materials, development materials and drivers can be downloaded from the website, and the above USB to 1, 2, 4, 8, 16 UART of chips and evaluation boards are provided. Other multiple UART solutions can refer to "PCI/PCIE to multiple UART and print port solution" and "multiple UART expansion solution", in addition to providing chip and solution customization according to customer needs.
Contact Information
Technical phone: 025-52638360, 52638363, 52638362
Email: tech@wch.cn
Sales Tel: 025-52638377, 52638355
Email: sales@wch.cn