Overview
The CH421A is an interface chip that provides bidirectional data buffering. The CH421A has two 8-bit passive parallel ports, X and Y, which enable bidirectional asynchronous data exchange between the X and Y ends by sharing a 66-byte dual-port data buffer. CH421A supports simultaneous operation at both ends. It is suitable for connecting single-chip microcomputer and single-chip microcomputer, single-chip microcomputer and DSP/MCU, as well as single-chip microcomputer and other main control terminals with active parallel interface, such as the print port of computer or the local port of CH365. The figure below is a block diagram of its general application.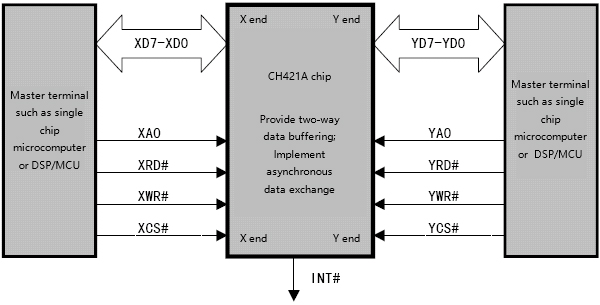 Features
A general-purpose 8-bit bidirectional data bus that can be directly connected to the microcontroller or DSP/MCU system bus.
Based on dual port SRAM, provide a shared 66-byte data buffer to the X and Y terminals.
One byte of unidirectional buffer is provided for each of the X end and the Y end, that is, one end can be readable at both ends.
Active-low general-purpose parallel interface control signals: chip select control line, read operation line, write operation line.
Only two address bits are occupied: the index address port and the data port, the internal index address is automatically incremented after the data port is read or written.
Provides software-controllable interrupt output pin INT# at both ends, active low.
Asynchronous data exchange, support X and Y both sides of the simultaneous read and write operations, no synchronization and waiting.
The maximum data transfer speed is no less than 7M bytes per second.
Supports 5V supply voltage and 3.3V supply voltage.
The SOP-28 is available in a lead-free package, compatible with RoHS.