Overview
CH9130 is a interface IC which can extend multiple interfaces through Ethernet, it has built-in 10/100M Ethernet MAC and PHY, fully compatible with IEEE 802.3 protocol. 2 UART, 16 GPIO, 2SPI, 3 PWM, 1 ADC with 3 channels and a 8-bit Passive-Interface (Or a 8-bit/16-bit bus) can be extended at the same time. With the network interface library in PC, CH9130 can make variety interfaces devices connect to network easily. The application diagram for CH9130 is shown below: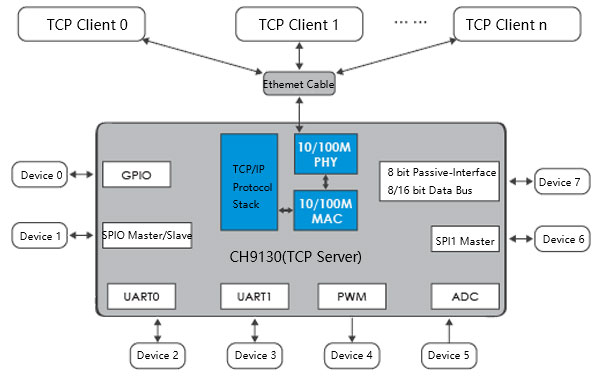 Features
Built-in Ethernet MAC and PHY.
Supports 10 / 100M, full duplex / half duplex adaptive Ethernet interface, fully compatible with IEEE 802.3 protocol.
Auto MDI/MDIX switching.
Implements all TCP/IP protocol suite, such as IPv4, ARP, ICMP, UDP, TCP and etc.
2 hardware full duplex USART, support modem interface signals, RTS, CTS and RS485 direction control signal TNOW.
16 GPIOs, each port can be configured as input or output independently.
3 PWM outputs, each cycle and duty cycle can be configured independently.
2 SPI interfaces: SPI0 supports master / slave mode; SPI1 only supports host mode.
1 10-bit ADC with 3 channels.