Introduction
CH9340 is a USB converter chip, which implements USB to serial UART interface. In UART mode, CH9340 provides common MODEM interface signals, to expand UART interface of computer or upgrade common serial communication devices to USB directly.

Features
Full-speed USB device interface, USB2.0 compatible.
USB CDC class, used to upgrade the original serial devices or expand additional UART via USB.
No additional driver required, and original UART applications are totally compatible without any modification.
Hardware full duplex serial UART interface, integrated transmit-receive buffer, supports communication baudrates varies from 50bps to 1Mbps.
Supports common MODEM interface signals RTS, DTR, DCD, RI, DSR and CTS.
Provides further RS232, RS485, RS422 interface, etc. through external voltage conversion chip.
Integrated 12MHz Clock, no need for external crystal.
Supports 5V and 3.3V power supply.
SOP16 package, most compatible with CH340.
RoHS compliant SOP16 and ESSOP10 lead-free package.
Packages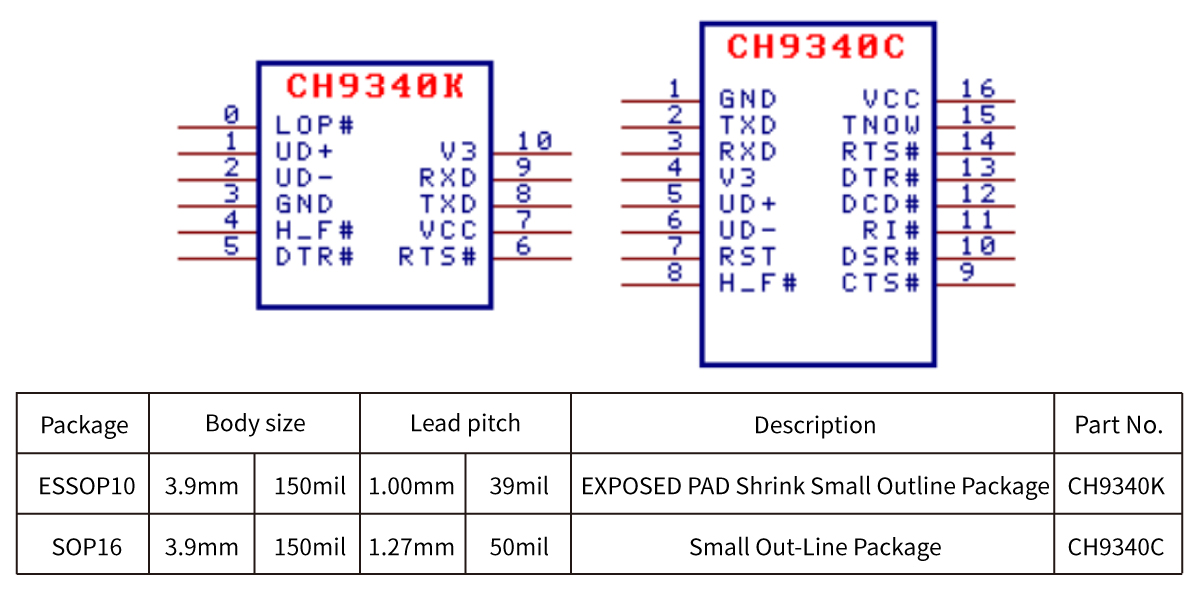 Notes: The backplane of the CH9340K is the 0# pin, which is left unconnected by default.
Development Information Datasheet: CH9340DS.PDF Drivers: CH9340SER.EXE(Windows driver for OS versions lower than WIN10) Schematic: CH9340EVT.ZIP